Domestic workers in Johannesburg: Hidden, vulnerable and essential
In the second in a series of photo essays from Women in Informal Employment: Globalizing and Organizing, Leslie Vryenhoek and photographer Jonathan Torgovnik explore the lives of domestic workers in South Africa. Their tales highlight the advances and challenges of bringing workers' organisations into this traditionally hidden form of urban economic activity.
Domestic work provides urban employment to tens of millions of people, most of them women, around the world, yet domestic workers remain largely invisible and isolated. As the work happens in private homes, it can be difficult to capture labour force statistics, to observe working conditions, or to organise and protect these workers. Behind closed doors, individual workers must negotiate a complex intimate relationship with their individual employers. While a growing movement to organise domestic workers and secure their labour rights has led to improvements in some places, many employed in the sector still face injustices and abuses.
Recognising The Domestic Economy
In South Africa, domestic work accounts for 23 per cent of urban informal employment, according to the 2010 South African Quarterly Labour Force Survey—a  significant proportion in a country where nearly one-third of all workers rely on informal employment (see Women and Men in Informal Employment: A Statistical Picture, 2nd Edition).
South Africa has included domestic work under its labour regulations since 1994. It was also one of the first countries to ratify the ILO Convention on the Rights of Domestic Workers (C189), adopted at the International Labour Conference in 2011. C189 recognises the "significant contribution of domestic workers to the global economy" as well as the right of domestic workers to decent working conditions. These include rest periods and leaves; a minimum wage and age consistent with that of other sectors in a country; the right to choose where to live; and the right to clear terms of employment. Protection from exploitation, harassment and violence are also covered.
But laws are one thing; enforcement quite another. When the workplace is the private residence, monitoring adherence to regulations is difficult due to the sheer number of sites, and complicated by age-old ideas about the sanctity of the home.
In August 2015, I set out with Getty Images photographer Jonathan Torgovnik to capture the pictures and stories of domestic workers at work in Johannesburg. It was a challenging assignment, since seeing the workplace required permission to enter a private home. The interviews underlined the pivotal importance of personal relationships to this occupation, for better or worse. Of course, only employers who are confident they treat their workers well, adhering to regulations and to more subjective standards of decency, will open the door to a camera and an interview. To get a more complete picture of the challenges that domestic workers face, we also attended a meeting at the offices of the South African Domestic Service and Allied Workers Union (SADSAWU).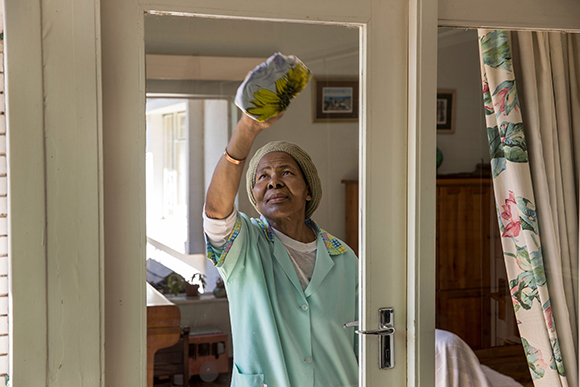 Building A Relationship
Many domestic workers are entirely dependent on a single employer, who provides both a sole source of income and living accommodations. These private households exercise considerable power over their employees. Anna Nkobele says she has been fortunate to have an employer who is willing to talk out issues. She likens domestic work to a marriage. "You can have a happy relationship," she said, "but it all depends on how you deal with the potholes."
In the more than 20 years she has cleaned, laundered and provided child care for Tineke Wulffers, there have been many potholes to negotiate. And both women agree the beginning of their relationship was difficult.
"I had gone to a lot of effort to ensure I was hiring the right person," Tineke said, meaning she wanted someone without a family—someone who would be completely dedicated to hers. But the woman she'd hired didn't show up, sending instead her cousin Anna to take on the role of caring for the Wulffers' house and newborn baby.
"I didn't want to inherit someone else's problems," Tineke candidly explained.
Anna, however, did not come unencumbered. She had four daughters living back in QwaQwa, and those entanglements would require her attention, too. On the other hand, Anna—who had left a previous job because the employer wanted her to clean up after a dog—had her own expectations of an employer. Fortunately, there was a willingness on the part of both employer and worker to negotiate. Independently, both women shared the same description of how they resolved conflicts: "We would sit on the floor together until we had talked it out."
Through the years, the road has been anything but smooth. Anna experienced unrelenting tragedy as one by one, all four of her daughters died. The youngest left her with two grandsons to raise. Those energetic boys, five and six years old, now live with Anna in the room she occupies at the back of the Wulffer's suburban house and in an interesting turnabout, Tineke is helping Anna with their upbringing.
For her domestic service, Anna is paid 3,100 rand a month—the minimum wage set by the government's labour regulations. In addition, she receives accommodation and food at no charge. The Wulffers also set up a pension fund that Anna can access when she decides to retire, making her among the small number of domestic workers in South Africa who are considered "formal" because their employers contribute to pensions or health insurance.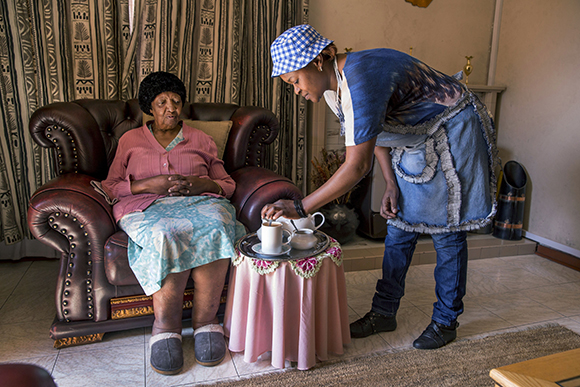 Mutual Respect
Like Anna, many of Johannesburg's domestic workers have left their homes in poorer rural areas—often leaving behind children—to find employment in the city. While many live on the premises of their employers, others must find a place to rent. This can prove challenging on a domestic workers' income.
Lucy Mokhele lives about two kilometres from her workplace in an informal settlement where corrugated containers and tarps, serve as dwelling. Her physically demanding day begins just after 7 a.m., when she makes the 20-minute walk to the private home of the Hamilton family. Much of Lucy's day revolves around caring for the elderly Rose Hamilton, a widow who lives with her daughter Sheri.
Lucy prepares three meals and cleans the four-bedroom, two-bathroom house. She is on her feet most of her day, though, she says, no one complains if she takes a rest in the spare room.
This is her first domestic position; previously she worked in a retail shop. When that job evaporated, Lucy began first doing ironing for the Hamiltons, and soon after they asked if she could work full-time and do "everything," as she put it.
"I used to be ashamed to do this work, but now I am proud!" she said, noting that it was the mutual respect and trust she shares with her employers that changed her mind.
At 4 p.m., with the evening meal prepared and set aside, Lucy walks to what is home—for now. Her real home, however, is a long bus trip away in a rural area where her 14-year-old daughter and nine-year-old son live with her mother. Lucy visits when she can, sometimes tacking an extra day onto a weekend to make the trip, and always heading home to her family during the annual three weeks of leave that South African labour laws grant, at least in principle, to all domestic workers.
Part of the Family
Martha Mahlala has also established a long and respectful relationship with her employer over the 23 years she has worked in the suburban Johannesburg home of Elize Sonnenberg. When Elize's waking hours were consumed by work in the corporate clothing industry, she relied on Martha to care for the two children. Today, Martha cleans, does laundry and prepares the evening meal in the family's kitchen. But her great passion is gardening, and the results of her prowess abound inside and out.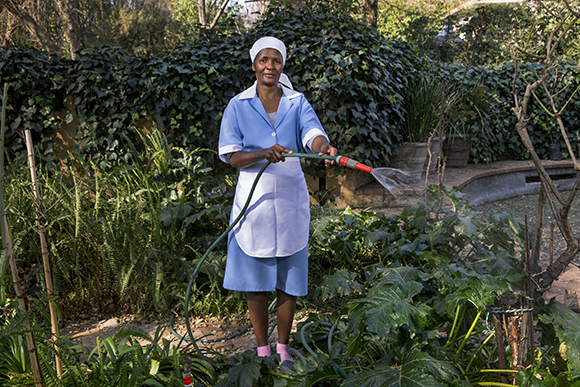 Although she recently joined SADSAWU, she admitted she was talked into it to show solidarity with other domestic workers, and that she didn't feel the need for membership since she has no problems with her employment situation. "We are one family," she said, adding that for much of his growing up, her youngest son lived with her at the Sonnenberg's home.
But while Martha feels comfortable saying this, the International Domestic Workers' Federation (IDWF) cautions against the notion that domestic workers be considered "family," which can, even inadvertently, undermine labour standards and negate workers' rights. The IDWF supports national domestic workers' organisations, including SADSAWU in their push for the ratification of the C189, and recently launched a campaign called My Fair Home. The campaign serves to highlight the need for decent working conditions by engaging the employers and asking them to sign a commitment to fulfil the protections provided by C189.
The Need to Organise the Domestic Economy
In Johannesburg, the attitude of domestic workers who feel they don't need a union frustrates organisers. "They say they are fine, they don't need a union, but they do," a long-time organiser named Thokozile Maisa (pictured in a grey knit hat) observed during one conversation at the SADSAWU offices. "Think of this: when life is good, you don't need a doctor, but it's better to have one before you are sick."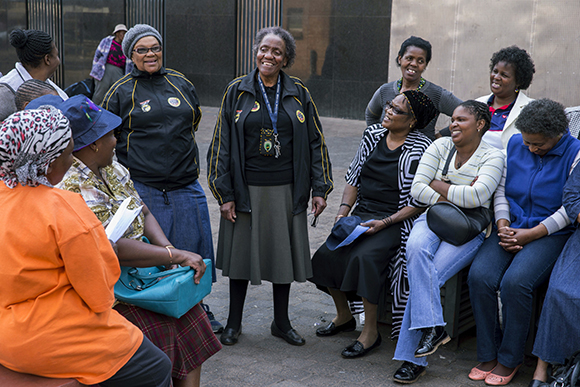 The stories shared by the domestic workers at a SADSAWU meeting that Jonathan and I attended stood in stark contrast to those we heard in private homes. They recounted problems such as underpayment, unpaid overtime and high charges for accommodations. Most had joined the union looking for help, but some were afraid their employers would find out. One was so afraid, she refused to be in the photos Jonathan shot outside the offices that afternoon.
A young woman named Maria told us the union has helped by making sure she knows her rights, but membership has come at a price. Her employer recently searched Maria's handbag and discovered her union card. This caused mutually bad feelings, but both know Maria cannot be fired for joining SADSAWU. Now, she feels her employer watching her closely. "She is trying to catch me doing something bad," she said.
Union membership is also a secret for Grace Maneng, who works a long day at her employer's home where she lives. She said that her situation is not good—and getting worse. While she was told she would receive 3,500 rand per month, now her employer is deducting 2,000 of that for rent. "She didn't ask me, she told me," Grace said, then added, "My kids need food at home."
Others at the meeting jumped in with advice, pointing out that the law stipulates employers cannot charge more than 10 per cent of the domestic workers' salary for room and board. They told her she must demand a payslip showing her earnings and deductions, and that she must record the conversation in case she needs to file a complaint.
It is clear from the conversation that organising helps resolve one of the greatest risks of this occupation: isolation.
Opening Up The Domestic Workplace
Eunice Dlada (pictured speaking to members), Deputy General Secretary of SADSAWU, explains that although South African labour legislation has covered domestic work for two decades, it is unevenly implemented and many employers refuse to comply. "Workers face problems because they are working in someone's property, someone's 'kingdom'," she says. The union is advocating at the Department of Labour for a law that enforces in-home inspections. "They must go in and examine basic conditions—how does the worker work, how are they paid?" Without that kind of monitoring, many domestic workers will remain vulnerable to exploitative practices.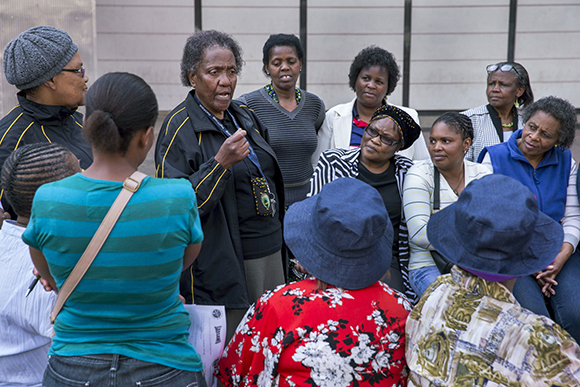 Eunice herself spent many years as a domestic worker. When she recalls her employer "undermining and underpaying her" for years and then firing her—"Because I talk too much"—it fires up her passion for helping other domestic workers. Much of her time is spent trying to negotiate with employers and helping workers make complaints to the labour board.
"Employers are ignorant or in denial," she asserted. "They don't believe they have to follow the law."
In 2015, SADSAWU had between 8,000 and 9,000 members. Though it continues to grow, its membership still represents just a small fraction of those employed as domestic workers in South Africa. Eunice believes that until every domestic worker joins the union, all domestic workers will be at the mercy of the goodwill—or lack of it—in the homes where they work.
---