Bangkok's home-based workers find strength in numbers
In the third of a series of photo essays from Women in Informal Employment: Globalizing and Organizing, Carlin Carr explores how workers in Bangkok's informal economy came together in a collective movement to advocate for their labour rights.
Down a small alleyway off of a busy Bangkok road, a residential workshop the size of a small corner store rarely stops humming. The workers, who spend long hours hunched over machines, produce intricately designed bronze flatware that has been a tradition for generations in the Pradit Torakarn community. Yet, the ad hoc workshop in the middle of their informal housing units is full of occupational hazards: stacks of random material precariously pack every corner; dust fills the air as workers carve details into bronze spoons; and large machine blades zip along with a deep, melodic hum that belies the dangers they pose.
On one occasion, a sharp and ragged piece of metal flew off of a machine, cutting many workers. Another time, a woman's traditional skirt was sucked into one of the machines' ragged belts, dragging her towards it and causing serious injuries.
Despite these hazards, the workers continue their craft, driven by a desire to keep a national cultural tradition alive, as well as their own economic survival. That unrelenting need to work, however dangerous the circumstances or meagre the compensation, is not unique to this community. Informal labourers, ranging from garment makers to scrap sorters, who work in isolation in their homes struggle to access the same rights and recognition as workers in the formal economy.
Even so, when HomeNet Thailand connected such workers in Bangkok, they supported one another in reducing workplace hazards and found a collective voice so powerful that they helped influence the Thai government's decision to roll out universal healthcare coverage. Their experience highlights how informal home-based workers, who number in the millions in cities around the developing world, can make important gains when they come together to fight for their rights.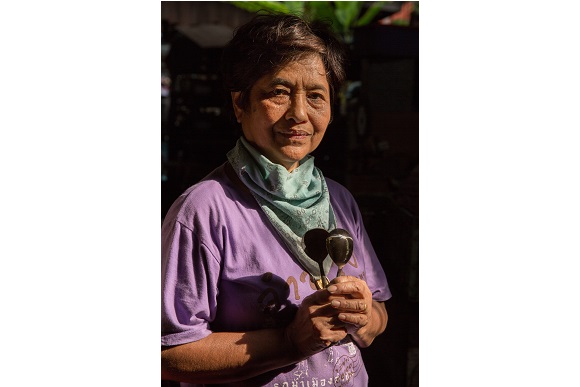 A portrait of a bronze artisan from the Pradit Torakarn community (Paula Bronstein/Getty Images). 
Millions laboring behind closed doors
Urban informal workers such as street vendors or waste pickers are highly visible, if officially unrecognized, contributors to cities. Yet many cities like Bangkok have another isolated and invisible workforce made up of home-based workers and cottage industries inside their informal settlements. The Pradit Torakarn community and other home-based workers like them face unique roadblocks to securing their livelihoods because they have limited, if any, opportunities to interact with other workers. Many of them are women and share the double burden of bringing in household income and taking care of domestic duties. These responsibilities leave little time to reflect on their position as workers in a larger legal and social framework, perpetuating a cycle of low wages, insecure work and few protective measures.
For many years, the workers in the Pradit Torakarn community accepted these vulnerabilities and the danger of their work as a normal part of their day-to-day lives, says Somkid Duangngern, the head of the group.  "We just did things the way we did things. We never learned how to lift something heavy; we just did it. And we never knew anything about state protection."
All that changed when Duangngern and his aging group of local artisans got an unexpected visit. Members of a local workers' organization, HomeNet Thailand, stopped by to learn more about their work and their challenges. They also carried with them a powerful message: you are not alone.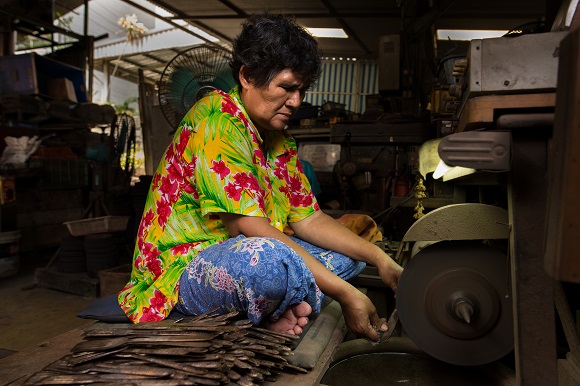 A bronze artisan using a machine in the Pradit Torakarn community's workshop (Paula Bronstein/Getty Images). 
All over the city, they were told, there were workers just like them who worked in small factories and struggled to get their wages from greedy middlemen. Solo women, couples, families, neighbors – some working alone and others together as a group – were stitching bathing suits, dresses, flip flops and jackets for markets down the road and shops as far away as London's High Street. But their wages were low. They needed healthcare, legal recourse when they were cheated, and contracts to fall back on. Most of all, they needed a support system that was nearly impossible to access working from home.
That feeling of vulnerability and isolation extends well beyond Bangkok. There are an estimated 100 million home-based workers around the world. "Home work" is a term that has been sanctioned at the highest level. In 1996, the International Labour Organization (ILO) adopted Convention 177 on Home Work – known as "C177" – to recognize the rights of sub-contracted workers whose home is the workplace.
"Home-based work is a substantial and rapidly growing part of the world economy. But it is characterized by unregulated, often inhuman, working conditions," writes Dave Spooner, director of Union Solidarity International in a report about the convention. "The growth in homeworking is part of today's economic globalization, where more and more of the world's workers are employed on a casual basis. Companies seek out workers to make their products at lower cost, by side-stepping their responsibilities as an employer."
This year marks the 20th anniversary of the landmark C177, but implementation and enforcement of legislation to protect homeworkers is limited. Only 10 countries have adopted the convention. Even though it has not adopted this global standard, Thailand has made progress because of a steadfast commitment by determined groups of workers. 
The power of a unified group and vision
HomeNet, which was founded in 1992, invited the bronze workers to a meeting of other workers who were working at home.  Soon, they started attending workshops and meetings of HomeNet's nearly 3,300 members – most of whom are home-based workers but also from other informal worker sectors – and saw how the members themselves democratically run the organization to field issues from workers and strategize how to improve workers' lives and livelihoods. At some of the training sessions, the bronze workers learned to improve the safety of their machines. They also took study trips organized by HomeNet to other workplaces both in the country and abroad, and heard from doctors on strategies for improving their health. Some of the workers now wear bandanas over their mouths to protect themselves from the dust. They've also improved safety mechanisms on the machines.
Although the bronze workers' conditions are particular to their heavy machinery, they are not alone in facing hazards with work that is done in and around people's homes. On the rural fringe of Bangkok, Amorn Harintornsutti, his wife Wanpen and their neighbor work together in a room of their home. The home-based garment makers produce nursing uniforms for a local contractor. With focus, each of them can produce five full uniforms in a day.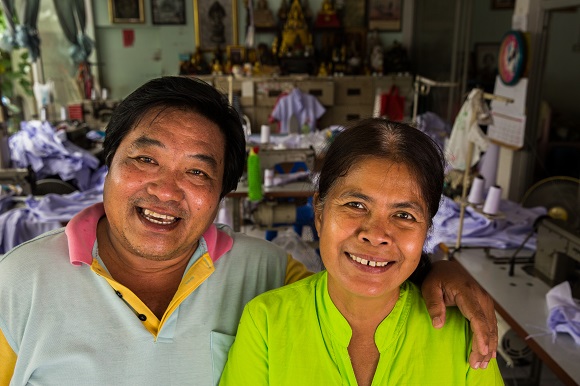 Amorn Harintornsutti (left) and his wife Wanpen at their home workplace, where they stich nursing uniforms (Paula Bronstein/Getty Images).   
The Harintornsuttis have been leaders in HomeNet for many years. They joined after a formal factory Mrs. Harintornsutti was employed in shut down. Many of the former factory workers started working at home out of desperation. HomeNet representatives showed up in their neighborhood to discuss their livelihood challenges.
While the occupational health and safety hazards of stitching from home might not be apparent, the risks are many. Mrs. Harintornsutti says they face a dust issue from the fabrics and often get rashes from the chemical dyes in the clothing. The small space with raw material and finished products stacked all around poses a fire hazard, and repetitive motions for long hours can cause cramps and pains, sometimes debilitating.  These conditions are not limited to this one household. In the Harintornsuttis' area – six zones of a thousand people each – "most of the women are working at home," says Mrs. Harintornsutti.
Being part of a network has helped them improve their working conditions and gain a better understanding of their rights. "Being at home, you hardly get to learn anything," says Mr. Harintornsutti. "HomeNet taught us about laws, and when we get cheated, HomeNet helps."
The Harintornsuttis, who are part of HomeNet's Garment and Leather Workers Cooperative, met the bronze workers through informal workers' meetings, and began exchanging some of the occupational health challenges they face at their workplaces. HomeNet's worker leaders have been advocating to improve conditions, and have had a number of pioneering successes.
Since home-based workers usually live in informal settlements and, increasingly, on the edge of the city, their home workplaces face challenges of electricity, running water, and regular public transport. To address some of these issues, HomeNet Thailand facilitated a series of city dialogues between 2009 and 2013 with home-based workers, residents of the districts, and city officials. The dialogues developed unity among workers in various districts in Bangkok, helped them to understand the city's bureaucracy, and introduced worker groups to officials. More bus routes have been promised, as well as the construction of a pedestrian bridge for these communities on Bangkok's periphery.
Another major win, even on a global scale, is the free universal health coverage for all. In the participatory process that led the landmark coverage, HomeNet Thailand's network of workers participated in meetings and dialogues that ensured civil society groups and, particularly, the needs of home-based workers were heard. In 2002, the Thai government launched a universal coverage healthcare scheme that gave all citizens – rich and poor alike – access to health services for just 30 baht (£0.67). Five years later, the government took an even more extraordinary step and implemented free public health services funded by general taxation. The program has gained widespread support, particularly because of its development with the public's participation, including from home-based worker groups.
Lives improve on the ground
Nationalized healthcare has benefitted many of HomeNet's members. Ananya Songsai, for example, sorts plastic waste in a covered ground-floor space in front of her home. Generally, home-based plastic waste sorters like Songsai earn three baht per kilo of plastic, making an average of 200 to 300 baht (£4.50 to £6.75) per day, though earnings are irregular.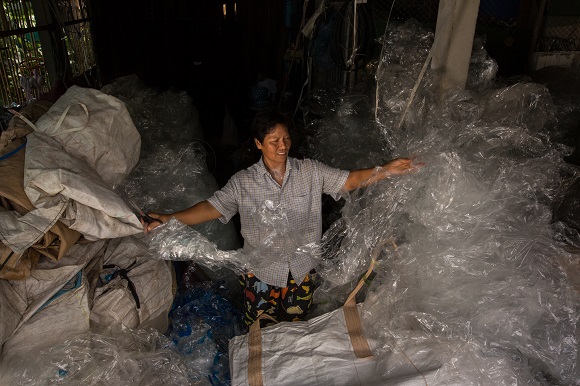 Ananya Songsai sorts plastic in her home in Bangkok in 2015. She uses Thailand's universal health coverage regularly to seek medical attention for her diabetic daughter (Paula Bronstein/Getty Images). 
Songsai spends her days removing Cello-tape from bags of plastic, which are often chemically coated. Some sorters develop skin irritations, such as blisters. However, Songsai worries less about her own health and more about that of others. Before 8:00 a.m., she has already fed the local dogs and cats, and, being the thoughtful neighbor that she is, checked on a nearby elderly woman, in addition to prepping her own family for the day ahead.
Her daughter has diabetes, so, even with the universal coverage, she still spends a significant amount – 4000 to 5000 baht (£90 to £112) per year or about one month's salary – on her daughter's healthcare. A hospital check-up alone costs 300 baht (£6.75)– or an entire day's earnings – because Songsai must pay for a motorcycle and public van to get her daughter there, in addition to the meals they eat en route. Diabetes requires careful attention to food, so the family also spends more than they normally would on proper meals. 
Many wins, and more to go
In May 2011, HomeNet Thailand members gained another important victory after nearly a decade of campaigning: the Homeworkers' Protection Act. This legislation mandates fair wages, including equal pay for men and women, for those "hired to complete work at home for an industrial enterprise." The law also requires employers hiring informal workers to have contracts that include a mechanism for handling labor disputes, as well as occupational health and safety standards.
"I am happy with the progress in terms of recognition at the policy level," says Poonsap Tulaphan, head of HomeNet Thailand. "There are statistics, the homeworkers' law, the domestic workers' law, the universal health coverage system and social security system for informal workers." The next step, however, is ensuring these systems are implemented and informal workers see the benefits.
The bronze workers have big plans of their own. They already have blueprints for a new workshop with air conditioning and all the safety features they've witnessed on visits to larger factories. For now, though, they are still plans on paper. That doesn't hold back Somkid Duangngern. He and fellow group members have created pamphlets and videos that demonstrate how to properly use machinery and shared them with other informal worker groups.
Still, there's more to do – and Duangngern, who has been an active member of HomeNet, knows where they should be heading. "We've visited workers in the formal sector, and they are organized and they demand improvements," he says. "We should do the same and get the protection we deserve."
That, of course, is much more likely to happen now that Duangngern and the bronze workers – all of whom are over 60 now – aren't alone in their struggle. The ripple effects of their movement, they hope, will be passed along to other informal workers and younger generations who will benefit from their collective vision and voice.
---