A precondition to subsist in the city is access to land. Land forms the basis of all productive activities, and so much of what is law, convention and decorum assumes an access to private space. By 2030, 60% of the world's population will be urban, with a rapidly growing share living in informal settlements. Insecurity of tenure and the permanent threat of eviction is thus set to become a supreme anxiety for a significant proportion of humanity.
For the planner a delicate balancing act ensues. The urban poor, drawn by the low skilled, low paying jobs created by the metropolis, have a need to remain in the city close to their source of livelihood. Their presence and the informal economies they populate heavily subsidise the formal metropolitan economy. However increasingly the urban poor find themselves at odds with larger development projects that need well-located urban land to facilitate improved infrastructure and stimulate growth.
In many ways Quezon City in Metro Manila exemplifies this dilemma. As the capital region's most populated city, Quezon City is home to Government offices, the House of Representatives, the University of the Philippines, and has large parcels of land in State ownership, an existing network of open space and good transport linkages in almost all directions. As development sites go, Quezon City ticks some very significant boxes, and in 2002, 250 hectares were selected as the site for the development of Manila's first transit-oriented mixed-use central business district (QC-CBD). At the same time long-established informal settlements — some more than three decades old and home to more than 25,000 people — occupy much of the land earmarked for development.
The San Roque settlement is one such slum that has now become centre stage in the contested space of the QC-CBD. Tensions came to a head last September, when after all residents were issued with a compulsory eviction/demolition order, a 500-strong demolition team along with police clashed with recalcitrant slum residents. Batons and water cannon were used to dispel the rock-throwing resisters, with the conflict spilling onto a nearby arterial road, (EDSA) paralysing the city for more than seven hours.
Before I'd seen San Roque, I was aware that living conditions there came with some very unenviable feng shui. As is a common feature of slums, lack of sanitation or any effective means of solid waste disposal engenders water-borne disease. The density, flammable dwelling materials and dependence on cooking fires create ideal conditions for the rapid spread of house fires (the area also has a particularly nasty reputation for arson). Manila is prone to severe weatehr events, with slums often perfectly located to be the most vulnerable and with the least systems in place to cope. Narrow lanes and ad hoc development also hamper the access of emergency vehicles.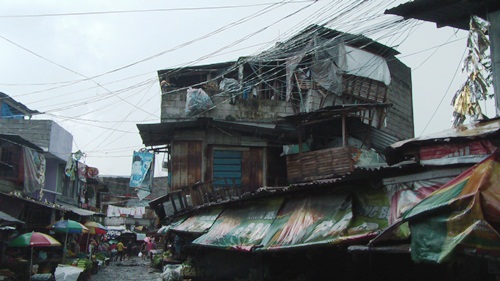 Shanties built on top of shanties line either side of San Roque's main street.
Despite knowing this context, the first visit to San Roque is still shocking. My escort Flora — a local social worker and grass roots political figure — and I walked what serves as the main street and market. On either side dilapidated shanties are literally built on top of each other and seem to be losing a slow fight with gravity to bring the whole settlement down into the mud.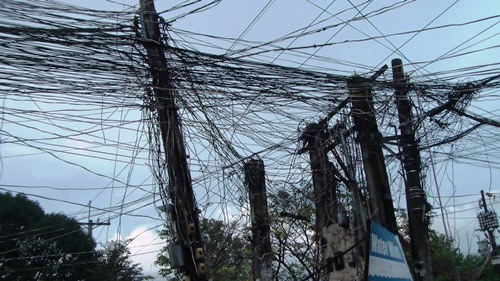 Three decades of bootlegged electricity
There's been a downpour this morning and virtually all of the street is under inches of water. Where the mud dips, water and whatever else flows into poosl that make me regret being born with a sense of smell. The first power pole I see shows the signs of three decades of bootlegged electricity. The second floor of the nearest shanty has about two feet clearance from the pole and right now everything's getting very wet. The major source of tarpaulin appears to be bygone election posters. The result is a tapestry of disembodied bits of smiling hopefuls' faces stretched between gaps keeping out the wind and rain.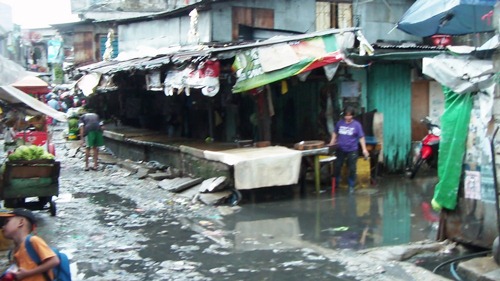 The main street after a downpour
San Roque is also a place where two opposite ends of the economic spectrum are on display right next to one another. The backdrop for the whole scene is TriNoma, a boutique shopping complex visible not-too-distantly behind a barbwire fence. My host tells me that "poor people aren't allowed in that mall, but they are allowed into SM North [another mall] across the road." It strikes me that elsewhere in the city there seems to be an inclination towards making the transition from decadence to squalour appear a bit more gradual, as if this somehow makes the existence of the latter more palatable. There's no such luck in San Roque. The contrast is made even more prominent by the landscape's dead flat topography, so the big box mall looms over the slum like a monolith.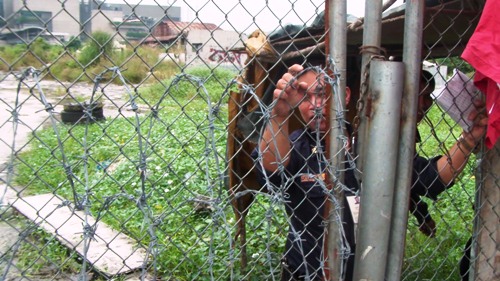 The separation of rich and poor in Quezon City
In this context it's not hard to understand how inequality to this degree has such a destabilising influence on a place and its people. To an extent I can also understand the venom in the looks I'm collecting as the walk takes us further in and the gaps between the shanties narrow. There's a palpable sense that life is difficult here. I can't help but think that if every day I woke up in the shadow of a giant reminder of everything I can't have I'd be bitter as well.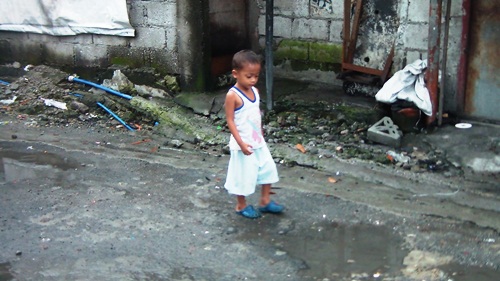 A young San Roque resident plays in the puddles
Despite their conditions, the community's position and their attachment to their home is also understandable. We meet with a group of fourteen women who introduce themselves as community leaders. One of them tells me that she's been living here for a generation and makes a sawing motion across her neck when she says, "this place, our home, is worth dying for." They tell me that the National Housing Authority's offer of 1,000 Philippine Pesos (23 US dollars) to demolish their homes and relocate out of the city can never be a feasible option for them, as all their livelihoods are here. They also tell me that the proposed relocation site, Montalban in neighbouring Rizal Province, has "no water and no job". Montalban has been criticised by the National Urban Poor Coalition as being without electricity, prone to flooding, located on a fault line and devoid of opportunities to secure a productive livelihood. This fiery group of women and the residents who remain are pursuing an 'on site' compromise. Proposed is the integration of the community into the development, with all existing residents accommodated in 465 medium-rise buildings, thus ensuring they are not excluded from the benefits of the QC CBD.
This situation is a delicate one, but the reality is that regardless if it is populated willingly or not, the resettlement will fail if its residents are not able to secure a livelihood in the new location. Logic suggests that by necessity they will return, and in worse condition than before. In a World Bank report The National Housing Authority describes the QC CBD as a "model for urban redevelopment". If this is to be the case and QC CBD is to be socially sustainable, not a further destablising influence on Manila and another kick in the teeth to an already disadvantaged group, a greater recognition of the urban poor as legitimate stakeholders is needed.
Next week Marcus Tudehope introduces the community and government leaders genuinely committed to helping the residents of San Roque, and the unenviable challenges that confront them.