Mobile creativity: how China's rural machinery also adapts to urban life
In a brief photo essay Zach Hyman travels to Wanyuan in China's Sichuan Province to see the creativity of the drivers of agricultural vehicles as the landscape urbanises around them.
Migrant labourers from rural areas are not the only workforce adapting to China's urban future. Urbanisation is also affecting a class of vehicles that I am presently studying across the country: its mechanised agricultural workhorses, from the earliest "transformed tillers" to the more recent motorcycle-engine-powered three-wheeled vehicles. From tractors wired to power asphalt-cutting saws, to agricultural vehicles transformed into dump trucks for urban construction projects, thousands of these vehicles are being modified and retrofitted by their owners as they seek to find a new role in tomorrow's China.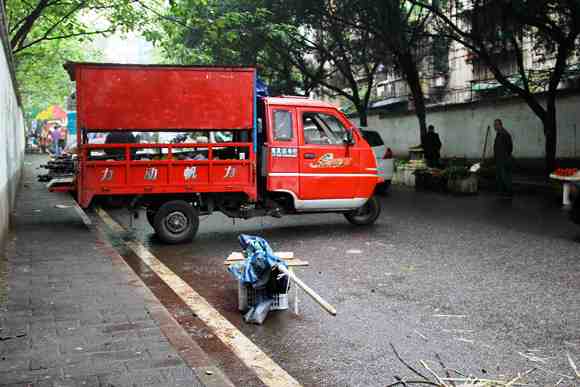 Focusing on how and why users modify their vehicles, we have seen how modifications reflect specific perceived demands placed upon users and their vehicles. Certain modifications are significant undertakings — such as the fabrication and mounting of sheet metal siding on a fruit vendor's three-wheeler. In the above picture, a seller is pulling away in one such vehicle, reserving his selling spot with a crate of grapes he has deemed too soft to sell, a manner of placeholding that other sellers recognise and will enforce if someone tries to encroach, knowing that he would do the same for them.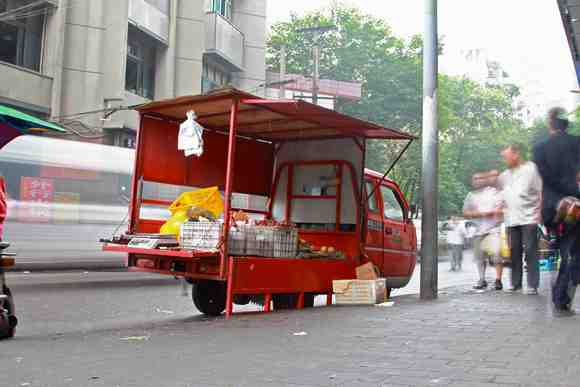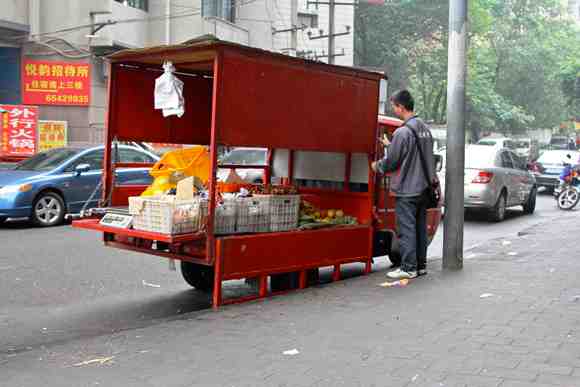 He has continued to evolve the design of his rear shelter since he first added it several months ago. Originally installing the roof flaps at a fixed angle, he later invested in a series of differently sized wooden dowels that allowed him to vary the angle to keep sun off customers or allow rain to drain off. Besides protecting him and his customers from the elements, he believes this modification also makes his vehicle and his vegetables more attractive to his clientele. "You can always tell when a [country bumpkin] arrives to try and sell vegetables using their vehicle — they don't have any cover, and their vehicle is dirty and in poor shape."
Still, "bumpkins" and veteran sellers alike must constantly be on the lookout for the municipality's "sidewalk police" who are strict about preventing the informal vegetable selling that these vehicle-based vendors make their living by. The future for him and his vehicle is also uncertain; there are rumours that the wholesale market he relies upon for sourcing all of his vegetables may be moved 40 kilometres away. "I would never be able to make a living driving this vehicle all the way there and back every day — it would take too much time and fuel. My best hope is to save up money and buy a small cargo van instead."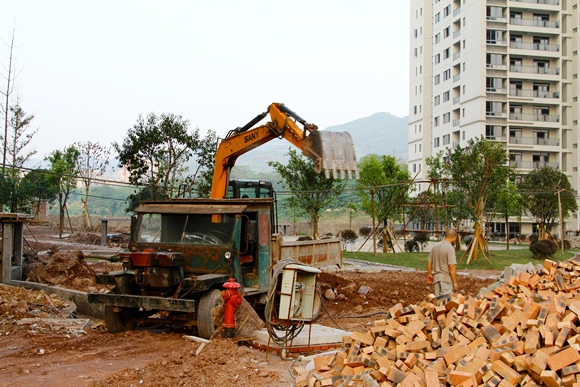 There are also smaller modifications, such as the worker who installed a horn, headlights and rear view mirrors on his vehicle after he began driving it on roads between his neighbourhood's various construction sites and underground parking garages for work.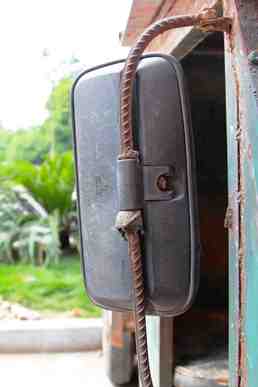 Rear view mirror attached with rebar.
Originally used as an agricultural vehicle, it now earns its keep in the fast-expanding suburb where he lives. With a relatively narrow chassis allowing it to fit within narrow alleys and low-clearance spaces and lower operating costs in terms of repair, insurance fees and fuel consumption compared to a full-sized dump truck, it is often called upon to remove construction debris (as shown above) and rubbish from underground parking lots or other hard-to-access areas.
"When I first started driving [my agricultural vehicle] on [urban] roads, I realised it would be dangerous unless I changed some things." As his neighbourhood has built up in the seven years since he bought his vehicle, his work around his home has gradually shifted from primarily agricultural tasks to predominantly construction and waste removal. His vehicle may not be driven on the city roads that have sprung up to surround his home, and he violates the law each time he drives to a job — risking at best a fine, at worst having his sole means of livelihood impounded.
"This vehicle is technically [unlicensed] so I can only drive it in construction zones and around rural areas and fields." He says the police are usually more lenient in the evenings, meaning that he must wait until cover of nightfall to drive to a job. If the job requires his vehicle for multiple days, he commutes between home and worksite by bus.
"I don't have any plans to sell this vehicle," he answers when I ask whether he would ever consider upgrading. "Many of my friends who used to own [this type of vehicle] have sold them and taken different work, but I like driving this vehicle for a living and will keep on doing it until I can't anymore.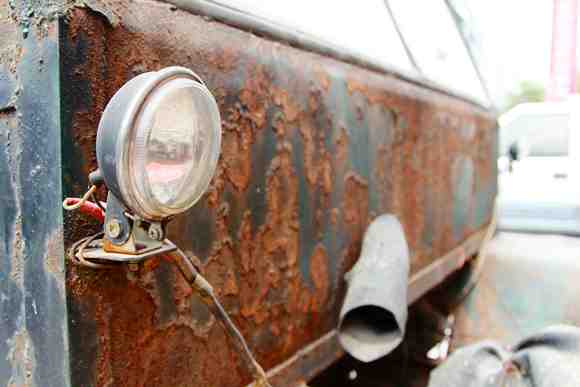 Headlights added by the owner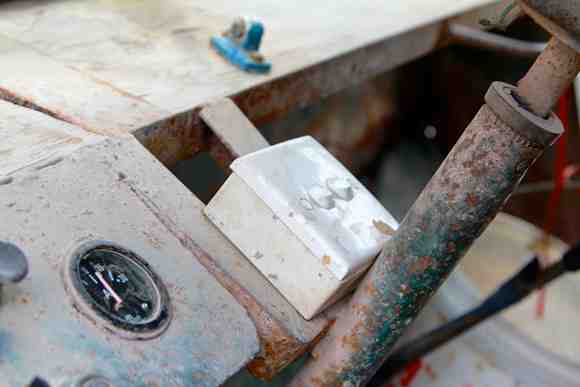 Headlight controls added by the owner — one switch for low-beam; another for high beam.
Weaving between formal and informal spaces
In both of these workers' cases, these modifications were conceived of and installed by their owners, not as options on the original vehicles, and made to adapt their vehicles to better perform in urban contexts. From an urban policy perspective, the use of these vehicles fluctuates back and forth between legal and illegal. While the fruit vendor is selling legally when parked on the university campus, a space beyond the jurisdiction of the chengguan (local law enforcers), he must purchase a ticket each day he sells there from the university's grouds manager.
The main reason he sells on campus is its proximity to a high-footfall intersection, albeit one that lies within the chengguan's domain. To dodge the chengguan, the vendor moves position four times a day based on when the chengguan starts and ends their working day. One can almost tell the time of day based on where along the street the various sellers are parked, so closely do they adhere to their schedules.
Similarly, while the adapted dump truck is driving legally when on his own property or on a worksite, he must be certain that when he is forced to violate the law by driving on the roads between them that he minimises the risk of a fine or impoundment. He understands the intent of the law forbidding him from driving on busy city streets, as his vehicle does not adhere to modern safety standards and cannot keep up with fast-moving traffic, while at the same time he has modified it as best as he can to increase its safety in its new urban role.
As China's urbanisation process continues to unfold — albeit at gradually slower rates — rules and regulations dictating (and usually limiting) vehicles' use will continue to evolve. Regardless of what is written in law books however, I believe that users' creativity will continue to flourish, both in terms of modifying their vehicles to play key roles in supporting their urban livelihoods, and also in terms of the clever tricks and hacks they must use to keep open a space for themselves in the city.
---