Neetha Rathore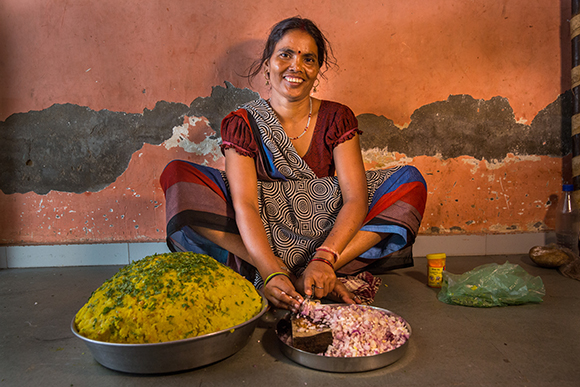 Every day, from her humble, one-room home in an Ahmedabad slum, Neetha Rathore makes huge quantities of curried potatoes. She spends hours sitting cross-legged on the floor washing, chopping and mashing, preparing mounds of stuffing for an Indian snack that her husband will later sell on his roving pushcart. The business is the family's primary income, and Neetha's role is essential, though – like many home-based workers – largely invisible and unrecognized.
In India, one-third of women working in non-agricultural employment are involved in all kinds of remunerative work from their homes. They produce a variety of goods and services, including tailoring, rolling incense sticks, hairdressing and assembling electronics. Some are self-employed while others are sub-contractors for an individual entrepreneur, contractor or larger firm or intermediary.
The work is flexible – especially important for women – and helps support poor families, but home-based workers face many challenges, including irregular work, delayed payments and rejected goods. In order to gain greater visibility and rights as workers, the women featured here, including Neetha, have joined the Self Employed Women's Association (SEWA), a trade union for poor, self-employed women in the informal economy. SEWA is a pioneering organization that empowers women to work together to gain work security, income security, food security and social security, especially health care, child care and shelter.
Organizing gives working poor women a powerful collective voice to gain greater visibility and to be heard by the decision makers who can affect their lives – on both a local and global level. SEWA has been instrumental in a number of key policy-level decisions that have helped secure informal livelihoods. In fact, SEWA led the important and successful movement to the Home Work Convention (C177), approved by the International Labour Conference in 1996. This year marks the 20-year anniversary of C177, which aims to promote and protect the rights of those who work at home to create products specified by an employer. Ten countries have ratified the Convention to date, and home workers around the globe are pushing for continued action and ratification. 
Bhavna Ben Ramesh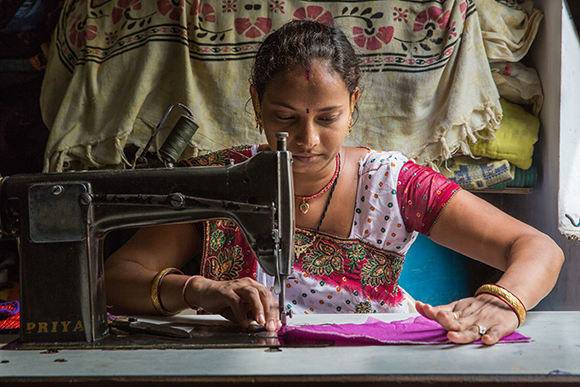 Bhavna Ben Ramesh sews handmade purses out of her home in one of Ahmedabad's vast informal settlements. For Bhavna, her home is her workplace, so the quality of housing and access to basic services, such as electricity for her sewing machine, fan and lights, are essential to her earning power. In a recent study by Women in Informal Employment: Globalizing and Organizing (WIEGO), home-based workers in Ahmedabad cited the quality of housing – including roofs that leak water and damage their materials, a lack of windows for ventilation and light, and cramped spaces – as their main challenges in their work.
A few years back, as a member of SEWA's sister NGO, Mahila Housing Trust (MHT), Bhavna and other MHT members in her slum fought for essential housing infrastructure, including individual toilets, individual water connections, drainage, paved roads, street light, solid waste management and storm water drainage. MHT brought them to key government offices, taught them about policies that could help them, showed them how to fill out the appropriate paperwork and gave them useful tips for speaking with government officials. All the training paid off, and Bhavna and her local neighborhood organization of women gained important upgrades to their slum. The improvements have had a positive impact on their lives and, for the home-based workers in the area, their work, as well.
Feroza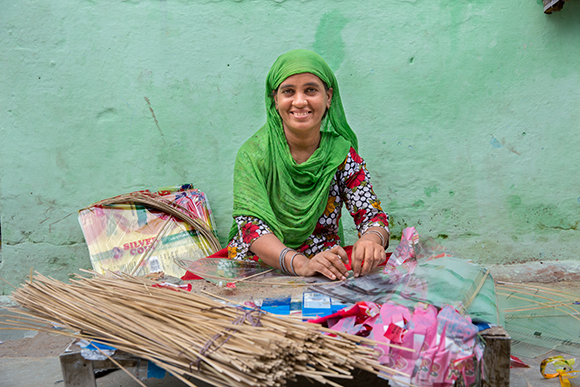 Feroza has made kites for the last 26 years from her small, dimly lit, two-room home in another of Ahmedabad's informal settlements. When it's too hot or crowded indoors, she moves her simple set-up to the lane just outside. Every day, she sits for hours in the same position making an average of 1,000 colourful kites a day for just 100 rupees (about £1). Repetitive work for long hours causes many health issues for informal workers. Feroza has suffered from body cramps and pains. Through SEWA, she attended trainings to improve her working environment, and now uses specially designed tables and chairs to reduce work-related pain from making the kites. The table, she says, is more comfortable and helps with her back pain. "I also work faster" she adds.
Bhavna Headod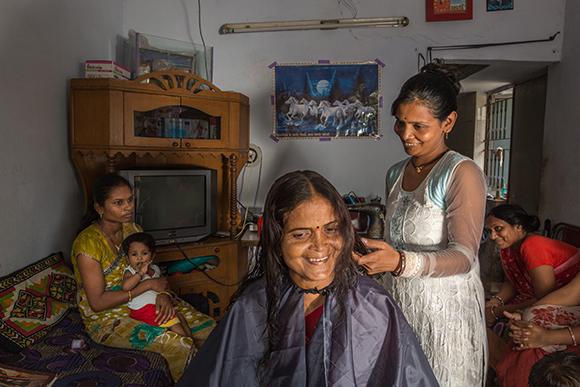 Bhavna Headod runs a popular beauty parlor from her home on the outskirts of Ahmedabad. She started the home-based business in 2010 after receiving a 5,000-rupee micro-loan from SEWA, and now she earns 3,000 to 4,000 rupees (about £30 to £40) a month. She provides a variety of services for the women in her neighbourhood, including hair cutting, eyebrow threading and fancy hairstyles for weddings. Home-based workers, like all informal workers – from informal waste pickers to vegetable sellers to street food vendors – provide valuable products and services at affordable rates for low-income neighborhoods. Bhavna has dreams for her parlor: one day she hopes to save enough money for a small house of her own and a separate shop for her business.
Rookmani Ram Naryan and Kavita Harshiresh Yemul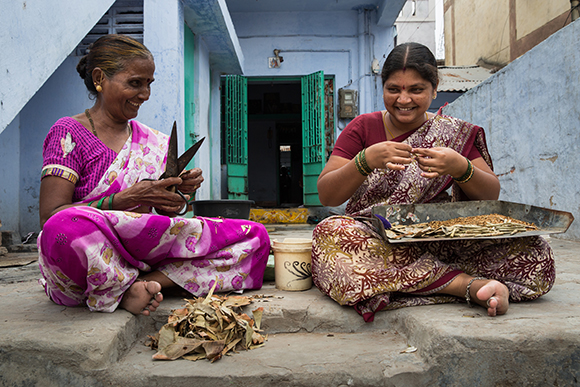 Rookmani Ram Naryan (left) and her daughter, Kavita Harshiresh Yemul, spend many hours each day on the floor of their small home hand rolling Indian-style cigarettes called bidi. They are carrying on a family business that was started by Rookmani's mother and father. The women roll 500 bidis in three to four hours. Sub-contracted workers such as Rookmani and Kavita are vulnerable to exploitation by middlemen, who often cheat them of payment or provide loans with high interest rates, and suppliers, who provide poor quality material and charge workers if the finished product doesn't come out well. As SEWA members, they have more bargaining power and visibility for their hard-earned income.
The Self Employed Women's Association (SEWA)
SEWA takes a holistic approach to addressing issues for working poor women in the informal economy. In addition to helping to secure their rights as workers, SEWA runs a variety of programs to support the women and their families in other ways. In one informal settlement in Ahmedabad, the organization runs an affordable daycare called the BALSEWA Center. The two-room space in the physical heart of the slum allows working mothers to keep their children in a safe, educational space while they earn for the family. The BALSEWA Center is also used as a community gathering place, providing health check-ups and educational programmes. In the photo above, Padma, a SEWA representative, hosts a nutrition class for mothers in the area to learn about healthy cooking.
Empowering informal workers, especially women, has positive ripple effects in communities and societies. SEWA helps women gain access to secure work to help them lift their families out of extreme poverty and invest in the next generation, both of which are key elements of creating sustainable "cities for all." Come October when global leaders gather for Habitat III in Quito, local economies need to receive greater recognition in the New Urban Agenda and leaders need to make a clear commitment to integrating informal employment into their future cities. Only then will we begin to see middle ground in cities increasingly characterized by wealth extremes.